Are you an author? Or, perhaps, you aspire to be an author? Join this brand-new, FREE, IANDS community where authors and aspiring authors will share and help each other. We'll be working in partnership with Metaphor.Ink. These meetings are free for everyone who joins.
Many experiencers are compelled to share their experience and the wisdom they gained on the other side of the veil.
Your story deserves to be shared even if it only reaches a small audience. If you touch a single person's life it is worth it. With today's technology, writing a book has never been easier or less expensive.
This group will cover all aspects of the publishing journey from conception and writing, to editing and publishing, to marketing and promotion.
The Author's Spotlight group will also feature intimate discussions with authors about their books, publishing experiences, and tips for other aspiring authors.
Our FIRST FEATURED author will be Rebecca Austill-Clausen. She will share details about her journey of writing and publishing her award-winning book "Change Maker!"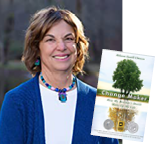 About Rebecca's award-winning book:
Rebecca's Website: