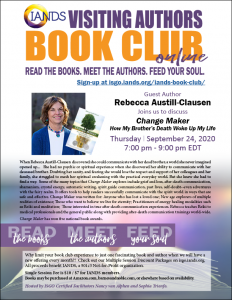 Order your book now from your preferred retailer. Amazon and Barnes & Noble links below.
(click on flyer to view fullscreen)
Amazon link…


Barnes and Noble link


AND, do RSVP NOW for this IANDS book club meeting date and time!
– – – – – – – –
Rebecca's story:
When She Discovered That She Could Communicate with Her Dead Brother, a World She Never Imagined Opened Up…
BOOK OF THE YEAR FINALIST, Foreword Reviews: Body, Mind & Spirit
Rebecca Austill-Clausen had no psychic or spiritual experience when she discovered her ability to communicate with her deceased brother. Doubting her sanity, and fearing she would lose the respect and support of her colleagues and her family, she struggled to mesh her spiritual awakening with the practical everyday world. But she knew she had to find a way…
Change Maker was written for:
Anyone who has lost a loved one
New age explorers of multiple realities of existence
Those who want to believe we live for eternity
Practitioners of energy healing modalities such as Reiki and meditation
Those interested in true after-death communication experiences
Some of the many topics that Change Maker explores include grief and loss, after-death communication, shamanism, crystal energy, automatic writing, spirit guide communication, past lives, self-doubt―even adventures with the fairy realm. It offers tools to help readers successfully communicate with the spirit world in ways that are safe and effective.