Please join us for the next IANDS Sharing group!
Facilitator: Haloy Prevette
IANDS Sharing Groups are not just for near-death experiencers. It's a safe place to talk and share openly about all spiritually transformative experiences, to discuss similar topics of interest, or to simply enjoy listening. Everyone is welcome!
For these groups, IANDS uses the very simple Zoom video conferencing program. After registering for the event, it's as simple as clicking the link provided in your email (prior to the event). You may also return to this page and use the Join Event button. It will be active 15 minutes before the group is scheduled to start.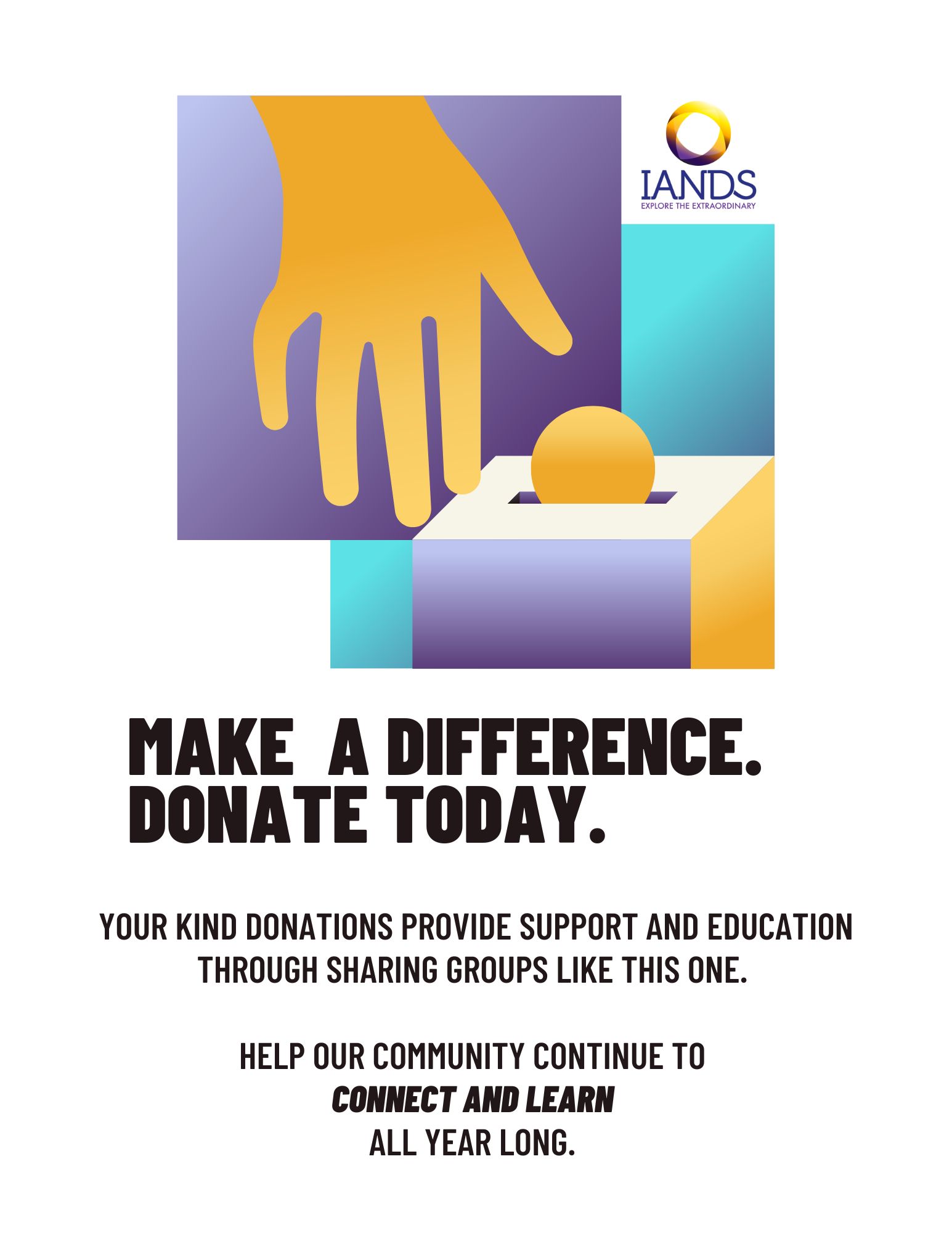 These sharing groups are free to everyone!
That said, ISGO Sharing Groups rely on charitable contributions to maintain staffing and administrative support. To continue to bring you a wonderful group experience, we thank you in advance for your kind donations.
Everyone with a sincere interest in near-death and related experiences is welcome. You are invited to share, learn, or just listen in one of our over 13 sharing groups per month. These are safe spaces.  You can leave your camera off and sit silently until you are ready to join the group. Each sharing group is free to attend, with donations requested to cover the cost of the services provided.
Each group is led by a trained facilitator. The facilitator maintains the IANDS Sharing Group guidelines that are created from decades of experience providing sharing groups in the clinical setting. It is the facilitator's role to provide an opportunity for each person, who wishes to do so, to share. It is also the facilitator's goal to keep the group space safe while maintaining neutrality. These groups do not provide counseling. They are peer-to-peer sharing groups. These groups last 90 minutes. There is no guest speaker. Each attendee is given the same privileges to speak as all other attendees, as long as the guidelines are followed. The size of groups is limited. The group access closes 10 minutes after start time to maintain the feeling of safety, security, and privacy. Even though these groups are free to all, donations are requested so that we can continue to provide them free of charge to all who wish to attend.
You are required to create an account with IANDS Sharing Groups Online to participate in these groups. A link will be sent to you in your confirmation email, or you can return to the reservation page on the date of the event and use the link that will be on that page.