April Pick: "Misfit in Hell, to Heaven Expat" by M.K. McDaniel
Guest Author Session
April 26, 2022 at 7:00 pm ET

All are invited to attend book club sessions – no membership required!
After registering for this Guest Author Session you can also register
separately for the FREE Read-Alongs. Or, if you prefer… Register for FREE
Read-Alongs only (Sign-up for Guest Author session later, if you wish.)
Get Kathy's book here: Amazon.com: Misfit in Hell to Heaven Expat: Lessons from a Dark Near-Death Experience and How to Avoid Hell in the Afterlife: 9781952146121: McDaniel, M. K.: Books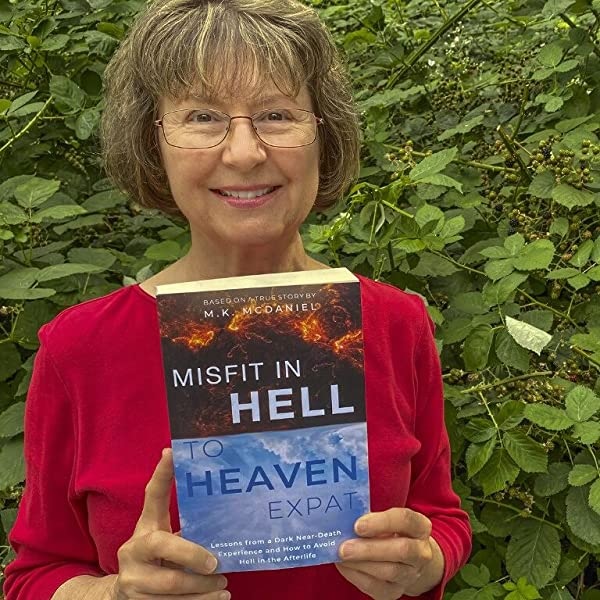 "Misfit in Hell, to Heaven Expat" by M.K. McDaniel
M.K. McDaniel fought for her life in a drug-induced coma while her spirit endured a seemingly eternal hell that mirrored her earthly life and the relationships forged with relatives and ancestors. Eventually, she was given a glimpse of heaven and had a chat with her deceased fiancé before being sent back to Earth, as she was told she still had work to do. Find out directly from M.K. what that work is, why her relatives figure so prominently in her life and afterlife, and what a negative NDE can teach us.
PLEASE NOTE:  This event is an open discussion group and must be attended LIVE… it is not recorded!
We do not sell books, but you can buy Kathy's book at Amazon by clicking below.
Amazon.com: Misfit in Hell to Heaven Expat: Lessons from a Dark Near-Death Experience and How to Avoid Hell in the Afterlife: 9781952146121: McDaniel, M. K.: Books
AND, do RSVP NOW for the Free Read-Alongs every Tuesday in April at 7 pm ET.