Near-Death Experiences in Childhood & Their Lifelong Impact: Featuring Animal Lights
An ISGO Live Event Featuring P.M.H. Atwater, L.H.D
Recorded Presentation – 45 min, Q & A 15 min.
Personal sharing – not recorded 30 min.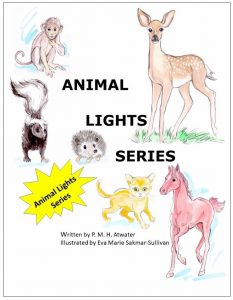 IMessage from PMH:  I have just finished the Animal Lights Project.  Eva Sullivan is the award-winning artist, Kevin Williams the graphic designed and Amazon expert, and my webmaster Steff the overseer on the project.  Animal Lights is a continuation of the book, THE FOREVER ANGELS.  It consists of six books of animal babies who each remember the light, conception, living in the womb (mommy's pocket place), being born, miscarriage, and death.  The purpose here is for parents to finally have something they can use with their kids, in fun and joy, to probe memory. 
Did you remember things like Busy Betty Wiggles did?
Something for kids, for parents.  So many child experiencers in my two studies remembered the light, remembered the womb, remembered their birth ————– so ——————- now we have children's books that can help parents and kids.
The data for PMJ Atwater's latest book, The Forever Angels, is from interviewing nearly 400 childhood experiencers on what it was like being on the other side. Hear this discussion of her interviews describing memories of the womb, birth, early childhood and the other world. Her research goes beyond her previous findings of thousands of adult NDEr's offering a unique perspective of what to expect and how to interact with this new generation of empowered, visionary individuals who were touched by the light and are guiding us to new realms of possibilities.