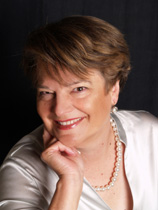 Yolaine Stout, founding director of ACISTE, has served as President and Executive Director on four non-profit boards since 1990, including the International Association for Near-Death Studies or IANDS. In that capacity, she saw the tremendous need for a greater understanding of the integration process and support system for experiencers. She is author of "Six Major Challenges Faced by Near-Death Experiencers" published in the Journal of Near-Death Studies, co-facilitated the first IANDS retreat for near-death experiencers.
Mrs. Stout has given numerous presentations and radio interviews related to near-death experiences and her own NDE, the result of a suicide attempt in 1982. Mrs. Stout has also produced an upcoming documentary called "Back to Life: Six Challenges Faced by Near-Death Experiencers." She is an Honors graduate of the University of California, Berkeley, where she received her teaching credential. After retiring from a 25 year teaching career, she received her Certificate in Fundraising Management from the Center of Philanthropy at Indiana University.
In addition to her work with ACISTE, Mrs. Stout has been a writer, organizational consultant, strategic planner and life coach. Her passion is to see organizations and individuals reach their highest potential through the power of vision, passion, purpose, collaboration and action. She is married to Scripps scientist, Dr. Charles Stout and has raised three sons.
*******************
The Near Dean Experience -second Wednesday of the month (normally):
Where we share and discuss all things NDE (and more) – Guest experiencers, NDE accounts, Thirty-one NDE Commonalities, The NDE message, open group discussion, mystical music moment (music as spiritual therapy and connection).
Mystical Music Moment – Where we listen to, share, and discuss brief clips of music that enable us to connect spiritually. For possible group sharing, please submit your favorite(s) in a Facebook message.
Group Host: Dean Christensen
Dean has been a researcher of the NDE phenomenon for over thirty-eight years. A possible NDE (at a very young age) and multiple STE's have compelled Dean to actively share these spiritual phenomena with others. Dean has a deep fascination with the human experience in tandem with the spiritual, as interpreted from the universal message of the NDE. As a musician and lover of music, Dean believes we can "tap into" various spiritual energies via the musical experience.
To maintain an intimate group experience, seating is limited to twenty.
Please join us for what should be an uplifting and enriching experience!