Jacob Cooper had a childhood Near-Death Experience (NDE). Since a young age, Jacob has been in touch with the spirit realm. In sharing his experience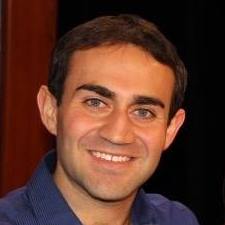 and message to others, he brings light towards death and helps others re-remember their spiritual truths.
Jacob Cooper is as a New York State Licensed Master Social Worker (LMSW) and provides individual and group psychotherapy sessions in a dual Mental Health and Substance Abuse recovery-oriented clinic. He runs two Mindfulness Meditation groups weekly. He is a Reiki Master Teacher and provides Reiki healing sessions for mind, body, and spirit and trains students and attunes them to Reiki. Also, as a certified hypnotherapist, Jacob facilitates past life regression therapy for individuals and groups.
He has been a featured guest presenter for IANDS and has been featured on numerous television and radio programs. Jacob provides mindfulness workshops throughout colleges and has trained mindfulness-based stress reduction to Graduate School students at Tour College of Osteopathic Medicine and Adelphi University School of Social Work. Jacob is currently working on his book about his near-death experience and more!!
*******************
The Near Dean Experience -second Wednesday of the month (normally):
Where we share and discuss all things NDE (and more) – Guest experiencers, NDE accounts, Thirty-one NDE Commonalities, The NDE message, open group discussion, mystical music moment (music as spiritual therapy and connection).
Mystical Music Moment – Where we listen to, share, and discuss brief clips of music that enable us to connect spiritually. For possible group sharing, please submit your favorite(s) in a Facebook message.
Group Host: Dean Christensen
Dean has been a researcher of the NDE phenomenon for over thirty-eight years. A possible NDE (at a very young age) and multiple STE's have compelled Dean to actively share these spiritual phenomena with others. Dean has a deep fascination with the human experience in tandem with the spiritual, as interpreted from the universal message of the NDE. As a musician and lover of music, Dean believes we can "tap into" various spiritual energies via the musical experience.
To maintain an intimate group experience, seating is limited to twenty.
Please join us for what should be an uplifting and enriching experience!