It's two experiencers for the price of one!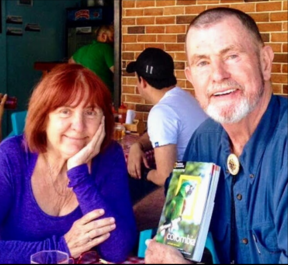 Join us for a very unique and special "The Near Dean Experience". Where you'll hear from husband and wife experiencers brother Edward Salisbury and Cheryl Mackin. Theirs is an extraordinary story of near death experiences, spiritual destiny, and compassionate service.
Cheryl Mackin and Ed Salisbury have served on the IANDS board, spoken in multiple conferences, and lead the Central Texas NDE monthly gathering for many years.
Cheryl Mackin
Cheryl Mackin's body was underwater for 30 minutes off the Hawaiian. During that time, she said she was engulfed in a comforting white light and felt like she was floating weightless. But when she heard the friend she'd been with call her name, she was called back to life "at warp speed" and in a twisting swirl of color. "I wasn't supposed to have stayed there," she said, when asked why she came back. "It may be because I'm now a healer and a chiropractor, and I came back because that's what I was supposed to do."
Ed Salisbury
Ed Salisbury is a hospice minister, yoga coach, and funeral director. Having experienced multiple near-death experiences, he's been drawn to work closely with the dying. In that role, he's been providing optimal choices in elder care, health challenges and "at death" care for over 20 years. He advises friends, families and organizations in the planning and fulfillment of funeral arrangements. Ed has also served on local and international association boards of directors for grief recovery, near-death experiences (IANDS), funeral consumer, and hospice care organizations
*******************
The Near Dean Experience (every second Wednesday of the month):
* Mystical Music Moment – We listen to, share, and discuss brief clips of music that enable us to connect spiritually (approximately five minutes)
Group Host: Dean Christensen
Dean has been a researcher of the NDE phenomenon for over thirty-eight years. A possible NDE (at a very young age) and multiple STE's have compelled Dean to actively share these spiritual phenomena with others. Dean has a deep fascination with the human experience in tandem with the spiritual, as interpreted from the universal message of the NDE. As a musician and lover of music, Dean believes we can "tap into" various spiritual energies via the musical experience.
Please join us for what should be an uplifting and enriching experience!