Description
Supercharge Your Zen with Zendo
with Dr. Bashar Badran and Dr. Barry Short

Meditation is a big word. A loaded word. It's a lot to take on for anybody. Because while its benefits are widely known, it's full of sacrificial choices and commitments like time, dedication, and prioritizing it over our daily routine. You've either thought about trying to meditate, tried an app or two, been on a few retreats, or you're somewhere in between. The focus of this meeting is to teach attendees about a new form of technology-assisted meditation known as Zendo. Zendo is a modern meditation device that accelerates the effects of meditation practice and reduces the learning curve. It makes meditation easier for both novices and experts alike. We will also be talking about how Zendo users have utilized this technology for personal growth and transformation. We love seeking deeper understanding – of our world, of our society, and of ourselves. Zendo is built on a backbone of science, made by some of the smartest leaders in science and medicine, and that's why it has the power to make people feel transformed and be better every day. It's why we consider it our gift to the world.
Zendo was created by internationally recognized brain experts and co-founders Dr. Bashar Badran (Left) and Dr. Baron Short (Right).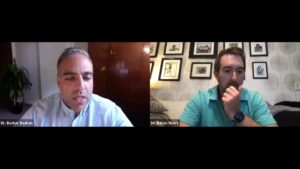 Bashar is a neuroscientist, professor of psychiatry at the Medical University of South Carolina, and director of the Neuro-X Lab. Baron is a physician dual trained in medicine and psychiatry who is also a professor at the Medical University of South Carolina and director of the Brain Stimulation Service.
Between them they have 20 years of experience creating new interventions for brain disorders. Both avid meditators, they have been friends for nearly a decade and created Zendo after discovering it in their academic lab.