The online tests have been completed and plans are underway to have Dr. Penny Sartori as the first entry on the Arizona IANDS 2019-2020 Guest Speaker Series as follows (note the unusual day & time for this AZ IANDS exclusive event):  Saturday, Sept. 14, 2019 at 1:00 pm EDT (6:00 pm UK)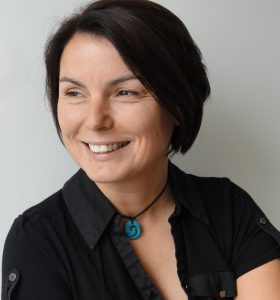 Dr. Penny Sartori is a registered nurse who began researching Near Death Experiences (NDEs) in 1995 after one of her long-term intensive care patients begged her to let him die in peace. The event shook her deeply and eventually led her to enroll in a PhD program to research NDEs. The findings, along with the profound spiritual lessons that she has gleaned from her work, are published here.
During her academic work, Dr. Sartori studied three samples of ICU patients during a five year period. The first consisted of 243 patients from the first year of data collection who survived their ICU experience. Of those, two experienced an NDE, and two an out-of-body experience (OBE). The second cohort consisted of survivors of cardiac arrest during the five year period. Of those, 39 patients (or 18%) experienced an NDE. The third cohort consisted of all the patients who experienced an NDE during the five year period. Their stories are captured in her new book.
One patient in particular, patient number 10, stands out for Dr. Sartori. "He was in bad condition," she says. "When we put him into bed he was unconscious and unresponsive. Later he reported an OBE. He was accurately able to tell us which doctor was in the room and what he had said while he was unconscious. He claimed to have met his deceased father and a Jesus-like figure. But the most extraordinary part was that afterwards he was able to use his hand, which had been paralyzed since birth. There is no medical explanation for how that healing occurred."
When asked about the biggest takeaway from her research, Dr. Sartori says, "In medicine, we're trained to believe that the brain gives rise to consciousness. My research into NDEs has made me question this prevailing paradigm, which admittedly is very widespread. The most important lesson for me has been a deeper appreciation for death and a whole lot less fear and anxiety about it."
In addition to detailing dozens of case studies, the book also discusses childhood NDEs, differences in NDEs among different cultures, and the after-effects of NDEs–one of which is the inability, in some patients, to wear a wrist-watch.
Review
"Nurse Penny Sartori was driven by an experience with a traumatized dying patient to study near-death experiences, not to pursue what might happen in an afterlife but rather to improve what happens in this life.  Her goal was to learn all she could about the dying process in order to help her patients find meaning in their illness and restore a sense of well-being in their lives.  The Wisdom of Near-Death Experiences, the fruit of her labors, is an invaluable resource for health care workers, for dying patients and their families, and for all of us who will face death eventually."
– Bruce Greyson, M.D., Carlson Professor of Psychiatry & Neurobehavioral Sciences University of Virginia Health System, Charlottesville, VA
About the Author
Dr. Penny Sartori PhD, RGN is an expert in NDEs and undertook the UK's first long-term prospective study. She is the author of The Near-Death Experiences of Hospitalized Intensive Care Patients: A Five Year Clinical Study and lectures both nationally and internationally. She currently teaches two courses she has written entitled Death and Dying as Spiritual Transformation and Science, Spirituality and Health at Swansea University. The author lives in UK.
For the remainder of the Arizona IANDS Guest Speaker Series see the following flyer as the monthly webinar series will feature these events broadcast from Tucson, AZ at 7:00 pm AZ time on the second Friday monthly from October 2019 through May 2020: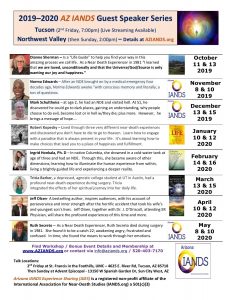 AZ IANDS 2019-2020 Guest Speaker Schedule