NDEr with Veridical Evidence – Karen Thomas, Saturday, Aug 1, 10 am PDT (1 pm EDT)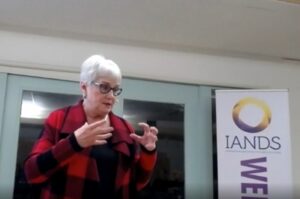 Karen Thomas will share her Near-Death Experience from 37 years ago when her surgery went awry. As people prayed for her, Karen experienced the prayers like "musical notes", especially the prayer of her 9-year-old daughter. Karen will share details of her visit to the "Other Side" and her life review. Also, she later received corresponding verifications of her out-of-body observations.
Karen has been interviewed on NDE Radio, Alive and Live with Lisa D and We Don't Die Radio with Sandra Champlain. Karen was also part of the documentary, Back From the Light, which was co-produced by Robert Neal Marshall and Raleigh IANDS facilitator, Yvonne Sneeden.
ISGO registrants can join the live event online in listen-only webinar with Q&A text chat mode. However, if you miss the live broadcast, as an ISGO registrant you will receive a link to watch the recording of the event at your leisure. The recording will be loaded to the IANDS access site the day (or two) after the live event finishes then an email with the link is sent.
If you are an ISGO Subscriber (that is you have an active IANDS membership at the Supporting or higher level), this webinar registration fee is only $10; for all others, it is $15 to sign-up.
If this is your first time on the ISGO site, you will have to establish a user name and password prior to registering for your first ISGO event. See details at isgo.iands.org/faq/
Check out the many upcoming ISGO events and if you are not already an ISGO Subscriber, consider how as a subscriber those benefits will mount up fast!