— This is the RSVP page to register for the online event. —
— For book orders click here. —
Don't miss this opportunity to honor Dr. Bruce Greyson's (BG's) foundational work over five decades in the field of near-death studies…
Now! You can reserve your seat to pay tribute to Bruce online for the incredible gift of his lifetime of service that has changed the world's awareness and perception of the phenomenon of near-death and similar experiences.
Online: Saturday, March 6, 10 am PST (1 pm EST) 
What does this occasion provide?
Be there* for a fireside chat with Dr. Greyson discussing his journey that has earned him the title, "The Father of NDE Research",

hear his view of the most significant findings

, and

how his understanding of NDEs and the nature of human consciousness has matured over 50 years..

.

There will be an interval for the audience to submit questions for a response from an acknowledged leader in the field of NDE research…

You will see a panel of renown experiencers, researchers, prominent healthcare workers, counselors, and others on camera to individually and collectively pay tribute to Dr. Greyson and his historic advancement of the knowledge base and its benefits for experiencers and clinicians…
RSVP now with one of the selections on this page to reserve your online seat as this will be a

very

popular event…
Add a pre-order** here for the first edition of his book, "After" — describing his journey from the undeniable evidence of his first encounters with the mystery of these extraordinary experiences to being able to clearly describe how these findings have dramatically shifted the field of consciousness studies away from a strict dependency on a working human brain.
* RSVPs for the live event include unlimited viewing of its video recording.
** Add one or more copies of "After" combined with an RSVP for this event and receive an additional $3 discount on the event's RSVP price by entering the coupon "lovetoBG" (no spaces); plus select priority shipping and you will receive the books within 7 days! (Get this sure-to-be-a collectors-item edition for yourself and others on your shopping list.)
BONUS: In addition to including the fireside chat with Dr. Greyson about his journey to this achievement; plus seeing prominent others in this field, many of whom you will recognize, giving their testimonies and gratitude for this man's lifetime of being the most prolific researcher documenting the reality of this phenomenon; plus having the opportunity to buy first edition copies of his book here at $2 off list price with taxes included; please note that…
NOW YOU TOO can provide testimony on your view of the value of this trailblazing work for you and the lives of people everywhere…
DO THIS BY CLICKING ON THE FOLLOWING LINK:
Be part of producing a commemorative booklet for the pioneering work of Dr. Bruce Greyson (opens in a separate window and may be submitted anonymously).
These personal inputs will be compiled after the event into a booklet to be presented to Dr. Greyson; and everyone that registers an RSVP for this event will receive an electronic copy of this testimonial booklet in addition to unlimited access to view the event's video recording.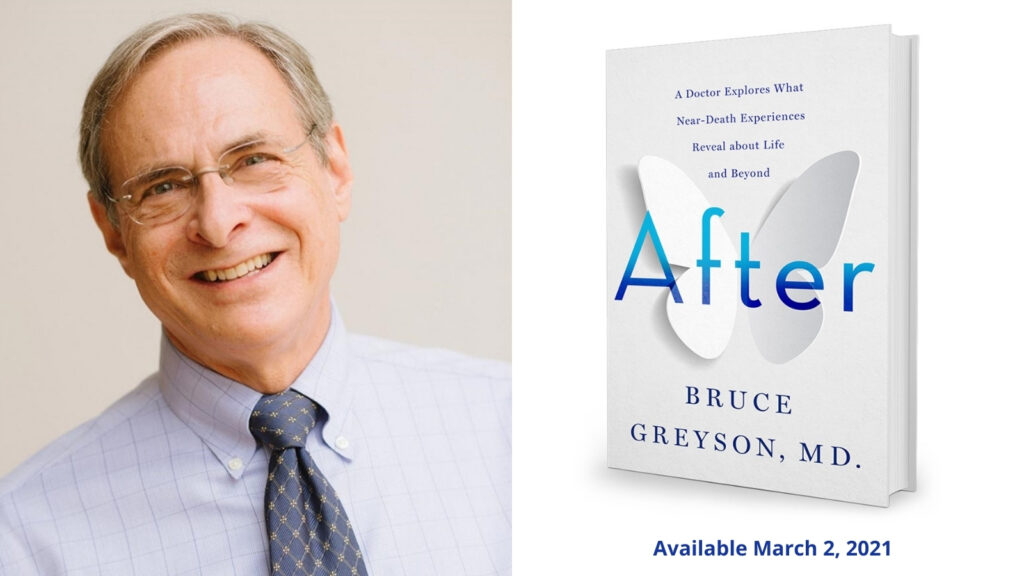 So, there it is … put the date and time, March 6 starting at 10 am PST (1 pm EST) on your calendar,  plus the system will email you a reminder … you will want to be part of this occasion! (Note: should you have to miss it, your rsvp will have access to the recording of this day to remember!)
After: A Doctor Explores What Near-Death Experiences Reveal about Life and Beyond