IANDS launches ISGO Webinar Guest Speaker series:
South Bay IANDS features Rajiv Parti, M.D. – Tuesday, October 22, 2019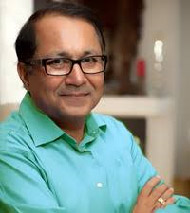 A consciousness-based healer who, after a near-death experience in 2010, left his medical career to focus on spiritual wellness, and to encourage the use of non-pharmaceutical, non-invasive therapies in the treatment of disease.
Rajiv is the author of Dying to Wake Up: A Doctor's Voyage into the Afterlife and the Wisdom He Brought Back. During his NDE, Dr. Parti realized that the soul is eternal. We all have many past lives that continue to influence our present, both positively and negatively. Dr. Parti shows you how past lives can be healed.  www.rajpartimd.com.
The South Bay IANDS website is: http://sbiands.org/
RSVP for this webinar and you can watch this event as a live broadcast. Registrants will receive a "Join" link along with the purchase receipt. A reminder email containing the link will also be sent the day before the event.
However, if you miss the live broadcast, as an ISGO registrant you will receive a link to watch the recording of the event at your leisure as it will be loaded to the IANDS Vimeo account the day (or two) after the live event finishes and then an email with the link is sent to watch the recording when convenient.
If you are an ISGO Subscriber (that is you have an active IANDS membership at the Supporting or higher level), this webinar registration fee is only $10; for all others it is $15 to sign-up.
If this is your first time on the ISGO site, you will have to establish a user name and password prior to registering for your first ISGO event.
Check out the many upcoming ISGO events and if you are not already an ISGO Subscriber, consider how as a subscriber those benefits will mount up fast!