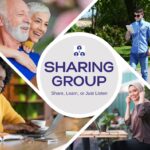 Facilitator:
Date: Thursday, April 6, 2023
Time: 9:00 pm EDT
Language: English
Topics: NDE, Open Discussion, Spiritual Experiences, STE
ISGO Sharing Groups are not just for Near Death Experiencers. It's a safe place to talk and share openly about one's Near Death Experience, Spiritually Transformative Experience, or simply discuss these and similar topics of interest (or simply enjoy listening). Everyone is welcome!