Description
An NDE Gave Krista the Tools for Living
with Krista Gorman
Krista Gorman is a Physician Assistant. Back in the summer of 2000 she had just recently completed her training and was pregnant with her daughter Maggie.
While in labor, Krista suffered an amniotic fluid embolism resulting in cardiopulmonary arrest. Her pulse was lost  for 8 minutes, followed by three days in the ICU  for severe bleeding. Krista experienced an NDE when she flatlined, it was the catalyst for profound change that really would not fully take hold  until  10 years afterwards. Krista explains,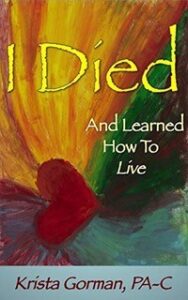 "I continue to gain more and more insight into my experience and how it explains the Universe and our place in it."
Krista Gorman, a Florida resident, is a Physician Assistant who has worked in emergency, pain management and now has gone to assist in the Covid crisis. Krista went to work in New York City when the pandemic so tumultuously emerged there. She has spent the last few months in field hospitals in Texas working 12 hour shifts, 6 days a week.
About Krista
Krista wrote the book "I Died and Learned How to Live" available on Amazon.  In this book she shares her story and the principles by which she transformed her life and aligned herself with the love she was on the other side.
Krista and her daughter were featured on the "Story of God" with Morgan Freeman in 2017 . It is viewable on the National Geographic episode "Heaven and Hell."
Krista has spoken at past IANDS conferences, as well as for the Edgar Cayce Association in Virginia Beach, Spirit University and also Blissful Beginnings in Florida. She is married to Ainsley Threadgold, who also happens to be a near-death experiencer and their meeting is another beautiful story in itself.
Originally presented by: