Description
Evidence of Angels: Personal Experiences and More
with Kimberly Clark Sharp, MSW, LSW
"Death is nothing to fear-and life without fear can be lived to the fullest."
After a near-death experience in 1970, author and Seattle IANDS Group Leader Kimberly Clark Sharp began to see angels — around her ICU patients and their families, hanging out in other hospital settings, in places where music and books were being enjoyed, and occasionally on her couch.
Completely ignored except once on I-5 southbound, these large transparent beings overwhelmed her in her observance of their tasks at hand, specifically to guide and comfort but also to sometimes trip us so that we learn how to get up.
Angels are busy! Kimberly also heard plenty more about angels from other near-death experiencers, often children, that she has interviewed over the decades.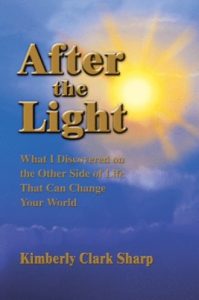 About Kim
Kimberly Clark Sharp, MSW, LSW is the founder and president of the Seattle International Association for Near-Death Studies, the oldest group of its kind in the world. A medical social worker with backgrounds in critical care, bone marrow transplant, and academic medicine, Sharp is a cancer survivor and happy wife and mother.