Description
Glimpse of Life through A Glimpse of Heaven
with Joanna Oblander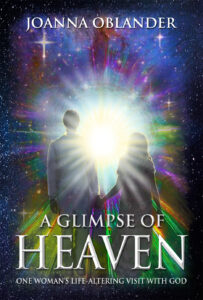 Prior to her near-death experience, JoAnna Oblander was no stranger to God working in her life. He had orchestrated the miraculous adoption of two children from Russia, presented her and her husband with the spirits of their unborn children, and provided her with angelic visitations.
However, wracked with the physical pain of 24/7 migraines, severe depression, and business failures caused by her health, she was ready to call it quits and end her life. At the conclusion of an earth-shattering day, an angel escorted her back to her pre-mortal existence. There, she was shown the plans and promises she had made with God.
She returned from God's presence with an understanding of who she truly was and with a divine sense of her personal mission. Author, motivational speaker, and health coach, JoAnna Oblander is devoted to her life mission of helping others find meaning, success, and healing. She will share her experiences with the intent to help you find your own personal power, potential, and the divine purpose you are meant to manifest in this celestially planned journey we call life!
JoAnna Oblander is the author of A Glimpse of Heaven: One Woman's Life-Altering Visit with God. She has co-authored with her husband Greg, 6 children, and 20 grandchildren. She lives happily in the shadows of Montana's mountains where she and her family love to play! When she is not playing in the lakes and mountains of Montana, she is passionate about fulfilling the divine mission that God has entrusted her with.