Description
After The Light with Kimberly Clark Sharp
"Death is nothing to fear-and life without fear can be lived to the fullest."
This is Kimberly Clark Sharp's message from her extraordinary experience during the time after her heart suddenly stopped beating and she lay on the sidewalk, not breathing, and without a pulse. Swept into a peaceful loving place of brilliant golden light and warm comfort, she saw, for the first time, the meaning of life — and death.
Thereafter, Kimberly, with hamster Toto at her side, left Kansas for Seattle — known as "the Emerald City" — to fulfill a destiny devoted to the service of others as foreseen at the end of her near-death experience. Guided by a new sensitivity to the presence of angels, demons and other invisibilities, Kimberly attained a Masters degree in Social Work at the University of Washington and began a career in medical social work that put her in direct contact with dying people-and people who almost died and came back.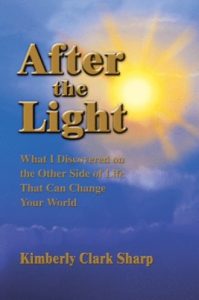 About Kimberly
Kimberly Clark Sharp, MSW, LiCSW is the founder and president of the Seattle International Association for Near-Death Studies, the oldest group of its kind in the world. A medical social worker with backgrounds in critical care, bone marrow transplant, and academic medicine, Sharp is a cancer survivor and happy wife and mother.