Description
From Heart Failure to Heart of a Champion
with bestselling author, Johnnie Davis
Johnnie Davis is an inspirational speaker, best-selling author, entrepreneur and success coach. His book "I'm Still Here: From Heart Failure to Heart of a Champion" is a #1 Amazon Best seller. He is also one of twenty-five co-authors of the book Cardiac Athletes that can be purchased on Amazon.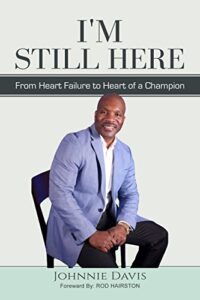 He's a heart failure and sudden cardiac arrest survivor with an incredible story to share with the world. Johnnie's heart stopped for over 16 minutes on Christmas Eve in 2012. He was in a medically induced coma for two days and given a slim chance of survival by all of the doctors on call that night in the hospital. Johnnie shares details of his near-death experience and he has a message to share with the world.
He's been featured on Fox 46 Charlotte, WBTV, WCNC, Fox Soul TV with Tammi Mac, Spectrum New Channel 14 in Charlotte, NC. He was recently on the cover of Health Monitor Magazine June 2020 edition. He's a Rutgers University graduate originally from Newark, NJ. He now resides in Charlotte, NC with his beautiful wife Rachel.
Website: www.succeedwithjd.com
Instagram: @mrjohnniedavis