Description
A Perfect Heaven: How Near-Death Experiences Reveal Details of the Afterlife
with Patrick Hogue – aka Archedon
Using knowledge from a collective study of Near-Death Experiences and his own visit to the Higher Dimensional Realm, a powerful set of Emergent Properties was revealed to Patrick. In this presentation sponsored by Seattle IANDS,  Patrick discusses three new perspectives about the nature of Reality that resulted from this discovery.
1.      Revealed wisdom – The Continuum of Existence
a.      How the evidence for Eternity, the Veil, and Pre-existent Free Will cure the world's endless questions regarding needless or gratuitous suffering.
b.       What the collective Near-Death and similar experiences (ELE, ADC, ILE) reveal as Four Fundamental Purposes for this life.
c.       How a framework of 11 Axioms, Four Purposes and Three Conditions resolve prominent enigmas found in (Ontological) Philosophy and Theology.
2.      The Periplus – GooglHeaven (like Google Earth, but pointed ⇑ )
a.      Collectively, many NDEs describe trips to the Higher Dimensional Realm with consistent fundamental attributes.
b.      When aggregated, these features form a navigational map.
c.       A map drawn from actual explorations of that Realm will assist Humanity to understand the reality of the Afterlife.
3.      The Experiment – a method to demonstrate these observations
a.      Prospective according to the scientific method.
b.      Predictive and falsifiable as necessary for a solid hypothesis and theory
c.       Using open sourced and a statistically significant sample size (thousands+).
Patrick shares more about this presentation:
When I encountered IANDS six months ago and the vast progress made in presenting the validity of the Near-Death Experience by both scientists and experiencers, a compulsion to investigate became a dominant factor in my life. I was driven by the odd coincidence that my own "Experience" took place at the time Raymond Moody decided to make NDE his life work while in college in 1968. Thousands of times in the last fifty years, I have asked why such an amazing experience happened to me and what was I to do with it? Last summer after a surgery, I revisited that question and discovered all of you in this NDE community. Outstanding. Now it is clear. This presentation is the result and the beginning of a journey with you.
One last thought. Collectively, the information provided by experiencers over the last 50 years, is without question, the most extensive and clear information about the Afterlife ever available to humanity. You could say, the greatest most detailed Revelation unfolding Reality in history. This Revelation is full of love, healing, comfort, and kindness and is powerfully logical. You are a treasure to this world, and I hope this presentation acts as a thank you for the courage you have demonstrated.
Biography – Patrick Hogue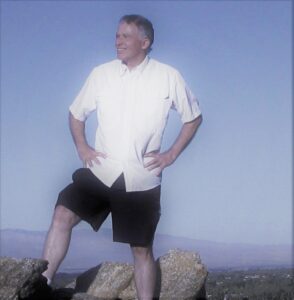 Personal – Father of five, nationally ranked in 70+ USTA Tennis, comical world record decent of 20,000' Licancabur in Chile, NDLE in 1968, missionary.
Interests – Origin of writing, ancient measurement technology, the Antikythera Device, history of the Real Deal.
Education – College of the Desert, Palm Desert CA, Brigham Young University, Provo Utah. Ranked in top ten in U.S. in impromptu speaking, directed first California JC statewide Student Congress, Represented BYU as one of two Senators at first statewide Collegiate Congress held at Utah State Capitol. Authored bill to require full disclosure of all corporate ownership of media in the U.S. in 1976, which was endorsed by the Utah State Legislature and submitted to the U.S. Congress, coached collegiate basketball.
Professional – Business owner, employed by LA Lakers for eight years, photographer, author, two industry world records in lithium processing, CEO of plasma combustion technology and invited to speak at Greylock Partners and Kleiner Perkins Venture Capital Groups, Stanford University, 3 U.S. National laboratories, the Paris Air Show, General Motors Technology Center, and in private meetings with Henry Kissinger, roughneck, radio personality, energy technology testing and evaluation, inventor.
Designed and delivered a series of plasma-based technology presentations to the following OEM's
General Motors – Michigan
Peugeot/Citroen – France
Ford – Michigan
Aston Martin – England
Jaguar/TATA – England
CFM jet engine group – Paris Air Show, Paris, France
Delivered technical presentations at:
The National Transportation Research Center, DOE – Oak Ridge, Tennessee
Pacific Northwest National Laboratory – Richland, Washington
Mahle Group –Stuttgart, Germany
DEER Conference, DOE – San Diego, California
Transformational Truck Charrette – Rocky Mountain Institute, Denver, Colorado
Kleiner Perkins Caufield Byers VC – Menlo Park, California
Greylock Partners VC – Menlo Park, California
Stanford University – Plasma and combustion group, Stanford, California
Currently writing:
A Perfect Heaven: How Near-Death Experiences Reveal a 21st Century Afterlife
Sponsored by: