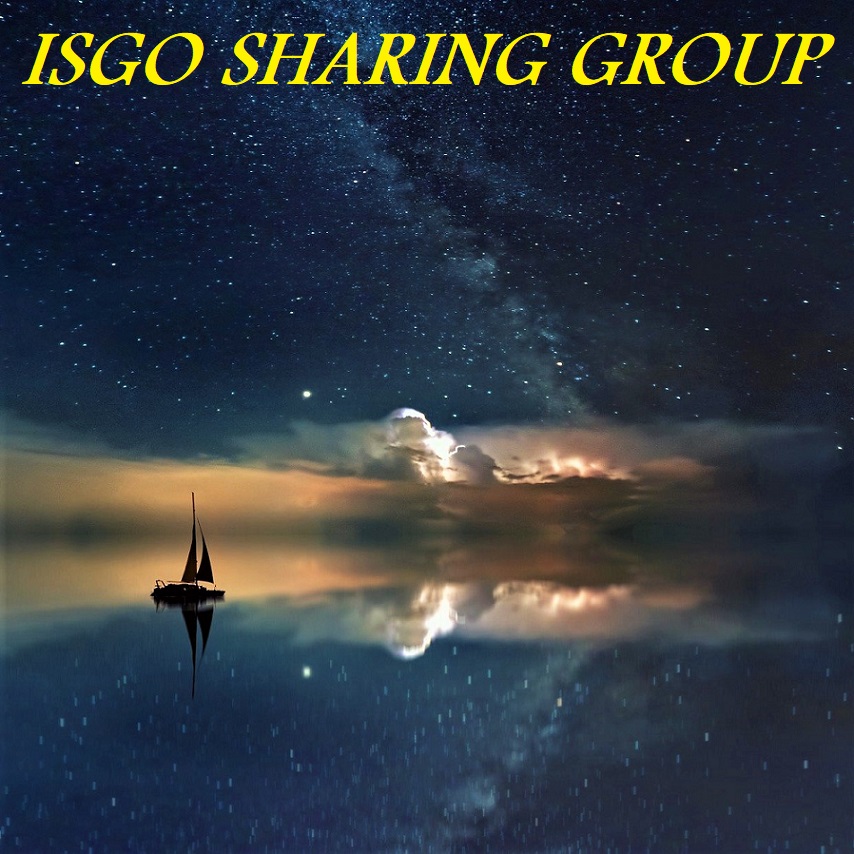 IANDS Sharing Groups Online (ISGO™) is a global online meeting space created for near-death and other experiencers of the extraordinary that meet online to learn, share and grow. Here is some feedback from participants at recent general sharing group sessions:
8 Respondents from recent IANDS Sharing Groups Online meetings:
———————————————
Respondent #1
I think these groups are great.
The only pitfall seems to be time. I find them almost too short to hear everyone's contributions. I always wish they could be 3h long sometimes. But I could be wrong. Maybe 3h is way too long and people will just start going on tangents and exhaust each other.
I don't know if there is a solution to this.
C'est la vie 🙂
I hope you have a wonderful weekend, and I'm also very happy happy I had the privilege of hearing your contribution too, one day not too long ago.
Kindest regards,
J.F.B. – Arlon, Belgium
———————————————
Respondent #2
Dear ISGO and IANDS,
Please accept this brief note as testimony of the effectiveness and appreciation of the ISGO "zoom" meetings.
They are, for me, a tremendous help and resource. I cannot emphasize enough the positive impact they have had for me.
I experienced a life changing STE 16 years ago (as well as several other spiritual experiences). I've lost some close relationships due to sharing my experience and as a result, learned very quickly not to talk about these things with anyone.
And yet I've noticed that not sharing these experiences creates a form of isolation. It causes one to feel disconnected from friends and family. Keeping silent was however the only way to avoid rejection and avoidance.
The ISGO meetings have offered me a chance to talk about my experience with others without fear of ridicule. Equally beneficial is learning from others' experiences and the fellowship I feel in the groups. And my impression of others at these meetings is that it is hugely beneficial for them as well.
So please accept my deepest gratitude for offering this platform for people like myself.
All the best, T.T. – Moretown, VT
———————————————
Respondent #3 (first time ISGO participant)
Hi C.S.!
It was very nice meeting you and the others Thursday night! It was great to listen and share with you all.
You mentioned that you would appreciate a few words on why ISGO is valuable.  So here are my two cents!
I've been going through an intense spiritual awakening since my grandma passed this year and I discovered NDE's and IANDS.  I went to the virtual conference, attended the reiki course, and it was all so amazing!!  Then on that conference Sunday, I felt guided to go to the sharing group.  I had been having some experiences that I really wanted and needed to ask someone about.  So I gathered up my courage to share my story that morning, and was blown away.  The people were all so kind and welcoming, which was so so helpful to this shy girl.  And there were a few people who had similar stories to mine and were able to share insight!  It was fantastic!!!  I left that meeting feeling so free and happy and like I had found my tribe, and was very much looking forward to continuing my connection with you all.  Thanks so much!!!
S.W. – Minnesota
———————————————
Respondent #4
Prior to finding IANDS, and specifically the ISGO meetings, I was really struggling to reintegrate back into life after my most recent NDE in 2020. I felt extremely isolated and alone. I'd had a profound experience for which I had very little language, and nobody in my life who had any idea what a near death experience was. I started attending the ISGO groups this year (2021), and they have been an absolute lifeline for me! Being able to sit with others who know and understand felt like I'd finally found my footing again. I had done a bit of research on near death experiences, as I tend to default to intellectualizing everything, including my own experiences. While the research into consciousness and the accounts of experience were very helpful, it has been finding these ISGO meetings that truly helped me begin processing what happened, and everything that's come of it since then. For all of my attempts at processing via intellectualization, it has been the community that has helped most. I cannot imagine not having these meetings to look forward to, and am so grateful they exist!
K.S. – Arizona
———————————————
Respondent #5 – part 1
Thank you, C.S., for going out of your way to do extra work for us, just to connect us to each other. I truly appreciate all that you do for us, and your constant kindness. 😊
BTW, as per your request, I wrote out today a rough draft of how coming to these sharing groups has affected me. It is 4 typed pages long and I cried most of the time. I obviously need to do a lot of editing. But hopefully that goes to show you just how much of a tremendous impact these groups really do have on us. When it's summarised, I'll gladly send it off to you. Thank you, C.S.!
N.T. – Calgary, CN
———————————————
Respondent #5 – part 2
Hello C.S,
I hope you're doing well. I was buzzing with too much energy during the Thursday meeting and couldn't formulate my thoughts properly. But I wanted to thank you for sharing your experience during the group, it was very brave of you. I've found it's of the utmost importance for people to not only be heard, but to have others actively listen and acknowledge their story and feelings. I try whenever I can to do the same for others. So, I apologize for not having mentioned it that day. Especially since you will see from my story, that I can resonate with what you went through, needing to hold in your profound feelings in your youth. I'm sorry you had to go through that, especially at such a young age. So, thank you for your trust in us to have shared your story.
I'm fully aware the below story is far too long, but this is everything that I feel, so perhaps you can pull out of it what part you think is most useful for your meeting. Thank you.
At age 13 and throughout my teen years I had many angelic visitations, and saw past lives. Trying to speak up about it led to people not believing me, or making fun of me, so I quickly learned to not talk about them. At age 24, I was drugged with a date-rape drug at a party, had a massive cardiac arrest, and had a positive NDE. I later had a tremendous amount of health issues and side effects that I was trying to deal with, but my family wasn't there to support me. They already thought the horrific sexual abuse I experienced as a child, was apparently a lie, so they automatically thought I had made this up as well. My world shattered, and we rifted apart.
Trying to talk to friends or others about my NDE resulted in people either thinking I was crazy, I was lying, or I simply had a dream. I unfortunately learned that speaking up meant that people didn't want to know me, or simply weren't nice or supportive in return. And I needed people, in some way in my life to function and be accepted into society, be part of a community, and to be accepted by my peers. Because I already no longer had a family, which devastated me. So I wasn't going to lose everyone else as well. I felt I had no choice but to close myself off from the most profound spiritual experiences of my life.
After 16 years with no support, and holding in my pain and anxiety of not being able to speak about life-changing spiritual experiences, I now believe this was why my life kept falling apart. Health, relationships, difficult life situations, everything. It was from holding in things that were so profound, and not having anyone to sincerely listen, acknowledge my experiences, or validate my feelings. Emotions are energy, who's essence is to flow freely. But when someone is forced to hold in an energy, it literally tore holes in my body and system creating various health issues, depression, and anxiety attacks. No one should be made to feel ashamed of the truth, or be forced to hold in energies as powerful as emotions.
Last February I found IANDS, joined as a member, spoke to the most kind-hearted soul who answered the phone at the IANDS office, and wrote out my NDE narrative for the first time, which felt so liberating. I then started going to experiencer meetings. I was astounded that there were so many other people there, and for the first time in my life be in an actual "room" with other people who've also earth-died and been out of their bodies, or had some other type of spiritual experience. To hear them speak about side effects that I'd always struggled with, or speak about elements in their NDE that were similar to my own, or speak of angels or past lives like I've experienced, was so powerful, enlightening and comforting. To be with people who were openly speaking about the ethereal, and have it now be okay for me to as well, floored me. People were open, honest, kind, and non-judgemental about it at the same time. This was unbelievable that this existed and I somehow was lucky enough to have tapped into being a part of it. It was a blessing.
I was far too shy to speak up the first meeting, and afterwards I cried uncontrollably, for a long time. Not out of sadness; but out of relief. It was a release of all that had been pent up for all those years, and all those anxieties and fears that had been engrained in me to never speak up. A release of all those cracks in my soul, and the block in my energy that became stagnated, resulting in an inability to truly enjoy life. I cried from relief that for the first time in my life, I didn't need to be shut off, and I didn't need to hide, and I could just "be". I no longer needed to worry about speaking my truth of my experiences, that I knew were real. So I cried, for a long time, knowing that this release was what I'd needed all these years. I simply had no idea how to go about it, or where to find help. IANDS was the answer.
I'm 41, I've astral traveled with angels since the age of 13, and have held those powerful life changing experiences inside for 28 years, because no one believed me. Yet here was a whole group of people that were the most respectful, non-judgemental, accepting, and kind people that I have ever met, and they were actively disclosing their experiences at the same time as honoring others stories. It was the exact opposite of everything I'd ever experienced in my life. And I knew at that moment that I was going to go to every meeting and force myself through fear to start speaking up about my experiences too. Because that's what was going to heal me, and help me find a way to put back together all the pieces of my soul, that had shattered all those years earlier. I felt that this was my real family that I saw on all those small rectangles on my computer screen. My soul family. Because this family was kind, respectful, and accepting of each other, for who we each uniquely are. That is a real family.
I routinely went to meetings, and as terrified as I was, with palms sweating and heart racing, I began to slowly speak up during meetings. I just kept pushing myself through the terror my body still felt while speaking about my experiences, and it slowly became easier. After 6 months I finally felt comfortable speaking up for the first time in my life. To the point that I actually looked forward to being able to speak, and feel the freedom of being myself and speaking my truth. That is the power of kindness; the power of having people in the group accept me as I am, and validate my feelings. As well as never be put down, judged, or kicked out of the group for not conforming to what the status quo believes. This group has not only given me hope that I can now be my authentic self as the spiritual being that I am, but also given me the courage to use my light gifts and abilities, solely to help others.
This group has also motivated me with every chance I get to validate others' experiences, welcome the new experiencers, or disclose a positive story to offer hope to whatever someone may be struggling with. Because I want to give back to my new family. And because I know first-hand the extreme harm it can do to others, to have to shut off a part of their soul, and conform to others, just to be accepted by them. I do not want anyone else, ever, to have to feel the pain of what I went through. So I attempt my best to do for others, what they have done for me in these sharing groups, of transforming my world into one of hope. Especially when like me, they may not have a single other person in their life that they can openly speak to about their experiences.
Now, to finally be able to practice my spirituality daily, I have never felt so free in my entire life. Because of that I can never go back to closing myself off again. This is what IANDS has done for me. I would have never gotten to this stage without their support of being connected to other NDE and STE'ers through the ISGO groups.
Months ago, after all the years of repressing my abuse, spiritual experiences, and emotions around them, I was contemplating suicide. Thankfully, that is when I found IANDS. Their compassionate and helpful staff, their kind and warm group facilitators, their many enlightening speakers who present online, and especially their powerful, welcoming sharing groups, all saved my life. I owe them a currency that I feel I could never give back to them in. For what is the currency of a life? What is the value of a life? It's priceless. Thank you IANDS, for the first time in my life to allow me to be the light energy being that I truly am, and be able to now speak my truth. I am forever grateful.
N.T., Calgary, CN 😊
*** End: Respondent #5 – part 2 ***
———————————————
Respondent #6
I am so grateful to have this group where I can honestly and safely share about my experiences without feeling shut down. There is a real sense of mutual caring among the members.
W.D. – Toronto, CN
———————————————
Respondent #7
It is through bringing experiences such as "miraculous" healing — along with other phenomena associated with NDEs and their aftermath — into view that the sharing sessions reveal strong and undeniable connections between the inner-mental realm and the seemingly physical world. For reasons like these I find the sharing groups very important in my own explorations into philosophy of science (understood as including the "paranormal").
B.R. – Tacoma, WA
———————————————
Respondent #8
I was just guided to IANDS in March of 2020. Prior to that I wasn't aware of anywhere to contact for information on NDE studies or experiences, and felt very lost about my own NDEs and loss. Although it took me a couple months to actually get the hang of zoom; I started to attending the ISGO groups. I felt very welcomed and was relieved to hear others who have similar experiences, and others who have different experiences. These groups have been a lifeline and a Godsend to me (No pun intended)… I feel very connected to others in the groups and look forward to seeing them; I love that we can connect with people in all different parts of the world to share our commonality, and sense of being.
My positive exchanges with people I've met and connected are invaluable to me. I feel and believe that ISGO Sharing Groups have greatly enhanced my spirituality, my curiosity to feel safe and explore my own NDE experiences, and my overall sense of being. These sharing groups have really taken away false beliefs that I was told in the past about NDE existence and inspire me, both creatively and scholastically; as well as socially. I could go one quite a bit – as I'm finding it difficult to keep it brief!!! IANDS/ISGO has greatly impacted my quality of life, and my outlook on life in an amazingly positive way.
My hope is that the ISGO Sharing Groups will continue, as I would greatly miss not being a part of them, and I would also miss that overall connectedness and oneness.
I'm very grateful to be included in these groups.
Blessings, K.M.S., Psy.D.
West Hills, CA
————–
Go to https://isgo.iands.org/faq/ for a quick overview including pricing and tips on how to find and RSVP for an ISGO event.
Check back frequently as more and more offerings will become available and shown in the ISGO™ catalog.
– Different language groups: currently plans are underway for having sharing groups in French and in Spanish – with more to follow (would you like to take the facilitator training course to offer a group in another language? – indicate this interest when you join / update your entry via Click here to join the ISGO™ mailing list!).