Description
Spirit in the ER with Jeff Olsen and Dr Jeff O'Driscoll
Jeff Olsen inspires audiences internationally with his intriguing story of perseverance and inner strength. after a horrific automobile accident took the lives of his wife and youngest son. Dr Jeff O'Driscoll shares his numinous experiences encountering spiritual presences in the emergency room, an ability that arose in him after the tragic death of his older brother.
JEFFERY C. OLSEN
Olsen is a bestselling author who inspires audiences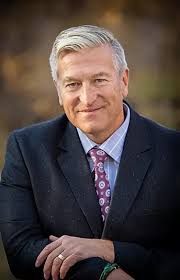 internationally with his intriguing story of perseverance and inner strength. After a horrific automobile accident took the lives of his wife and youngest son, also inflicting multiple life-threatening injuries to Jeff, including the amputation of his left leg, he found the courage to survive over 18 surgeries to eventually heal, both physically and emotionally, to thrive in his career and community contributions.
Jeff has appeare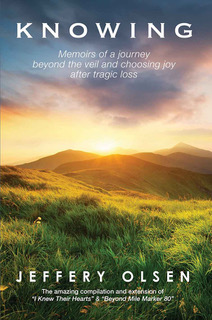 d on many national and international television and radio programs sharing his insights. Olsen's latest book, "Knowing," is a compilation of his earlier books, yet with even deeper insights and extended chapters. Olsen's emotional connection with his readers is maintained throughout all three of his books.
Jeff continues to work as a Creative Director and participates on several Boards including The Road Home, The Wholeness Network, and as a World Ambassador for the International Association for Near Death Studies.
Among all of Jeff's accomplishments, he is most proud of and most fulfilled by simply being a husband, father and friend.
Jeff O'Driscoll, MD, Intuitive Mentor
Dr. Jeff O'Driscoll comes to his practice as an intuitive mentor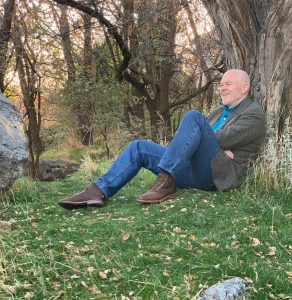 from an unusual perspective. For twenty-five years, as an emergency physician in a major trauma center, he frequently communicated with souls who hovered between this life and the next. He saw people leave their bodies at the time of death and communicated with them. Their messages were always of love and hope. For two decades, Dr. O'Driscoll refused to speak about his experiences.
Dr. O'Driscoll's otherworldly communications began in childhood, shortly after the farm accident that took the life of his older brother. "When I was sixteen, he saved me from what might have been a lethal car crash," Dr. O'Driscoll said of his brother. "Stan still comes to me. He still teaches me."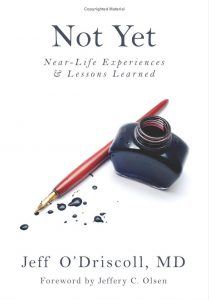 After publishing his award-winning memoir, Not Yet, and sharing his story internationally, Dr. O'Driscoll now meets clients for individual spiritual mentoring. He connects people to their highest self so they can get their own answers—answers they can trust—in order to live their most authentic life. While many life coaches press their clients to be busier, more determined and more focused on the future, the tools and exercises Dr. O'Driscoll shares enable souls to walk away from fear, find their answers from within, step into their fullest potential, honor the present, and embrace peace.
MEDICAL BACKGROUND
Dr. O'Driscoll received his M.D. from the University of Utah School of Medicine. He is board-certified in internal medicine and is a fellow of the American College of Emergency Physicians. He practiced emergency medicine at a level-one trauma center, teaching students and residents, for twenty-five years, and served as chairman of the department for eight years, receiving awards and publishing articles about service quality in the emergency department.
OTHER INTERESTS
In addition to his memoir, Dr. O'Driscoll has published a novel, several articles on various subjects, and a series of six children's books. He paints, sculpts, and enjoys bicycling, including a one-day, 206-mile, bicycle race traversing portions of three states. Jeff married Sheila more than thirty-three years ago. They have five children and five grandchildren.