Description
In my book, You Are Deathless-A Near Death Experience Taught Me How to Fully Live and Not Fear Death (published August 2022), Nicole Kerr shares her journey about awakening to herself and the transforming work of aligning her soul, spirit, mind, and body. Through her own death, Nicole was forced to shed ascribed identities, such as being a people-pleaser, to instead develop an authentic, loving relationship with herself and God.
Nicole beautifully presents how her NDE was actually an STE: A Spiritually Transformative Experience. This aligns with the ten most common NDE lessons (Source: IANDS 2020 Annual Report), the first of which is "We do not die." Nicole has persevered through enormous suffering and pain to create a life she now loves.
Her story proves that we can put to death the punishing, angry God that man created. This allows the beautiful God of love and acceptance whom she encountered in her own death to emerge and accompany us in day-to-day life. Bottom line God is love.
If death is an end, then I know for certain there is nothing final about it.
Get this video, and all of our videos, for free with an IANDS Supporting Membership or higher membership level! Plus, get our live talks for free too! Or, save 50% with a Basic Membership. Learn more and get your membership here.
About Nicole
Nicole is a national best-selling author speaker and now Eternality Advocate. For the past 30 years, Nicole has worked in all sectors of society, including in government (the Centers for Disease Control and Prevention), non-profit (American Cancer Society), military (United States Air Force Medical Operations), academia (University of Hawaii), healthcare institutions/hospitals (Adventist Health Castle and Queens Medical Center), corporate settings (Sea Ties, LLC), and private consultation. Nicole's warm, engaging presentations have earned her a place in front of international audiences ranging from corporate food producers to health and medical associations. Throughout her career, she has focused on supporting people from every walk of life to make realistic, meaningful, happy choices for lifelong health and well-being. She has appeared on CNN, PBS, CBS, ABC, the Food Channel, and a host of other TV and radio shows to share her unique perspective on wellness, lifestyle, and nutrition.
Nicole graduated with a Master's in Public Health – Nutrition from the University of Minnesota, she has her BA from Southern Methodist, she is a Registered Dietitian Nutritionist (RDN), a Neuro Emotional Technique (NET) certified level 2 practitioner, Disabled Veteran of the USAF and BTDT – Been There, Done That (my most important one).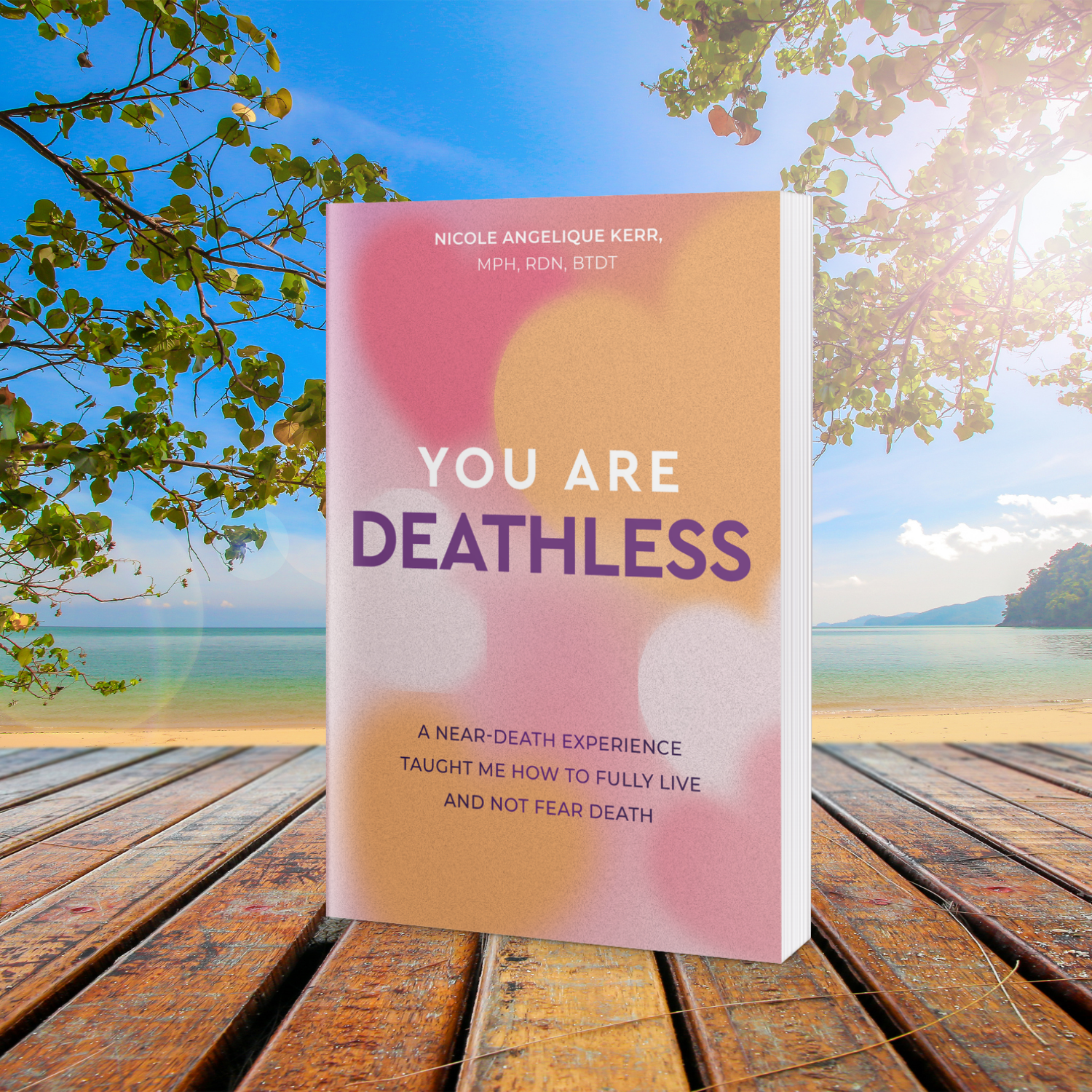 Facebook: https://www,facebook.com/nicole.a.kerr; Instagram: https://www.instagram.com/nicole.angelique.kerr; LinkedIn: https://www.linkedin.com/in/nicole-kerr-8920438/; Goodreads Book Page: You Are Deathless Good Reads Book Page
http://www.nicolekerr.com