Description
For those who've experienced our true Home across the veil or those who only long to do so, there is a wish to return to that all-encompassing bliss. Is it possible? Suzanne Giesemann and her guides in spirit, Sanaya, have been very clear in assuring that all things are possible which serve the greater good. And our world is benefited when we each experience our true nature: as loving, peaceful, compassionate beings here in this human state for just a little while.
But how can we actually accomplish these visits, these respites from the trials of human life? In this session, Suzanne will share the simple seven step process that she uses to make the connection with spirit. There is no need to meditate for hours to accomplish a connection that is, in reality, already present. Instead, Suzanne will share a three minute process which you can use to begin to improving your awareness of spirit right now.
The truth is that we are eternally connected to Source. We cannot be separated from who we are except in our thoughts. We are expressions of a magnificent whole, experiencing humanness for just a little while. While it's true that life gets in the way and it's easy to lose sight of the truth, these simple, proven processes will allow you a time out from life, a short visit to your truest and eternal Home.
About Suzanne
Suzanne Giesemann is a spiritual teacher, author, and verified medium who has been recognized on the Watkins' list of the 100 Most Spiritually Influential Living People. A former Navy Commander with a master's degree in National Security Affairs, she served as a commanding officer and aide to the Chairman of the Joint Chiefs of Staff.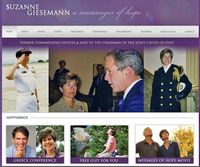 She now shares The Awakened Way
, a path to living a consciously connected and divinely guided life.
Suzanne has authored 13 books, 6 best-selling Hemi-Sync recordings and hosts a YouTube channel with over 81,000 subscribers and millions of views each year. She produces the Daily Way inspirational messages, the Awakened Way app, and hosts the top-ranking Messages of Hope podcast. Her memoir by the same name was made into an award-winning documentary that is available on Amazon Prime and YouTube.
Suzanne leads sold-out classes, workshops and retreats across the county and is invited as a keynote speaker for major events each year. She serves on the faculty for two global online teaching platforms, The Shift Network and Humanity's Team. She is honored with membership in the Evolutionary Leaders Circle, a group of thought leaders from diverse disciplines invited to help support a shift in consciousness.
Suzanne is known for her joyful, down-to-earth style of making deep spiritual concepts easy to understand. She laces her teaching with evidence-filled stories of the greater reality and practical tools that produce the personal experience of our multidimensional nature.
Her messages bring hope and healing that go straight to the heart.
For more about Suzanne and her work, please visit http://www.SuzanneGiesemann.com
https://suzannegiesemann.com/courses/personal-mediumship-plus/