Description
Demystifying the Out-of-Body Experience (OBE) with Luis Minero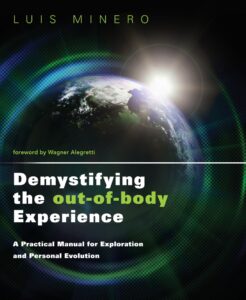 Once we acquire the ability to leave the body with awareness, we gain a very different perspective from which to explore and understand life, our soul and consciousness. We can directly visit and experience the "spiritual" world, allowing us to interact face-to-face with spirit guides, find out more about our life purpose, access information about our past lives, understand death, and even lose the fear of death. Thus, the OBE can be used as a tool for spiritual growth – something that anybody can learn to do. Luis will discuss the benefits of developing OBEs and energy control, as well as common exit sensations during take-off, to help us understand the disconnection process. Many of these positive effects are also observed when studying the near-death experience (NDE), and this talk will likewise cover similarities, differences and the relationship between both.
Learn more here: Learn OBEs – Demystifying Out-of-body Experiences
About Luis:
Luis Minero graduated in Chemistry with honors from Florida International University. He is the author of the international best seller "Demystifying the Out-of-Body Experience (OBE)". Luis had paranormal and out-of-body experiences since he was a teenager, and has been volunteering, giving classes and helping people to develop their OBE and paranormal skills since the mid-90s. Because he speaks Portuguese, English, German and Spanish, he has lectured throughout the Americas, Europe, East Asia, Africa and Australia. Likewise, he has published several of his studies in academic journals, and has been invited to speak at many international congresses.
You can find Luis here:
instagram.com/mosaicwe, facebook.com/mosaicwe , http://mosaicwe.com.