Description
Providence of the Heart – Surviving Death & Honoring Life: Embrace Your Vibrant Light
with Robert Neal Marshall
On August 3, 2013 Filmmaker & Actor Rob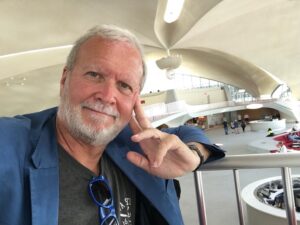 ert Neal Marshall suffered a major heart attack and went into ventricular fibrillation caused by a 100% blockage of his left anterior descending artery. Through remarkable chance of being in an ambulance when this occurred, paramedics shocked him in an attempt to bring back his heart and Robert flatlined. Eventually brought back by CPR, Robert was clinically dead for nearly a minute and a half. This profound experience changed his total being and perspective of life. As a professional lecturer over the past six years on topics of film and theatre with the award-winning Cunard Insights© Enrichment Programme, Robert now brings his personal and inspirational conversation to audiences on land.
Topics include:
Crossing over and coming back – a Near Death Experience
Dealing with the after effects of a Near Death Experience.
Listening to your inner voice and letting it guide you.
Embracing life and losing fear.
Making positive choices to follow a truly fulfilled path.
Learning to understand and let go of things we cannot change.
Living and sharing from a place of deep love and kindness.
About Robert
Robert Neal Marshall is an actor/writer/filmmaker who started off working in the West End of London as assistant to late producer and theatrical agent Richard Armitage on several hit shows, including Me and My Girl with Robert Lindsay and Emma Thompson, High Society with Natasha Richardson, The Entertainer with Peter Bowles, and Rowan Atkinson for his one man show A New Review. While in London, Robert produced and directed the successful West End debut of Is There Life After High School? at the Donmar Warehouse.
A Graduate of New York University Film, Marshall worked for over a year as Casting Associate with Casting Director Pat Moran, C.S.A. (THE WIRE, HAIRSPRAY) and was a proud member of the team to win an Emmy® Award for casting GAME CHANGE starring Julianne Moore, and an Emmy® Nomination for casting Season one of VEEP starring Julia Louis-Dreyfus, both for HBO.
Robert's documentary BACK FROM THE LIGHT, co-produced with fellow NDE survivor Yvonne Sneeden, is available online and via streaming video as well as his DVD THREE QUEENS-AN INTERNATIONAL RENDEZVOUS, released in 2008 to coincide with the final journey of the QE2. His documentary MR. OCEAN LINER, about the life and times of maritime historian and author Bill Miller premiered aboard Queen Mary 2 and made its Lincoln Center and New York City premiere as part of "Cinematic Passages: The Ocean Liner on Screen" at the Elinor Bunin Munroe Film Center.
Robert is the founder and Executive Producer of the Columbia Film Festival in Columbia, Maryland, which just wrapped its 3rd season and he recently became Managing Director for the film festival's parent organization, Columbia Festival of the Arts.
Originally presented by: