Description
Love & Miracles from the Other Side: A Shared Near-Death Love Story including Healing Helpers from Another Dimension 
with Scarlett Heinbuch, PhD, MPH & David E. Schwartz
Scarlett met David for the first time in September 2005 when David was on the brink of death. He had been in an unresponsive coma for nearly four weeks, on a ventilator for life support and in complete kidney failure due to a rare form of vasculitis. Scarlett spent 12 days doing energy healing with David.
During that time, they had a Shared Near-Death Experience (SNDE) resulting in an unexplained medical recovery for David and an unexpected love story for them both. In addition, David's kidneys were healed with the assistance of beings from another dimension. The story of two people who woke up to a world of love on the other side, encountered other beings in the universe who helped heal David, and the lessons of love they learned, will inspire others to know that the transformative power of healing love exists and can be applied in everyday life.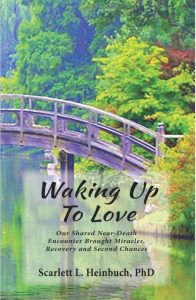 Dr. Scarlett L. Heinbuch is the author of Waking Up To Love: Our Shared Near-Death Encounter Brought Miracles, Recovery and Second Chances (Waterside Productions, Jan. 2018). She holds a Ph.D. in public policy from Virginia Commonwealth University and a master's degree in public health from VCU's School of Medicine. She has studied complementary, alternative, and integrative medicine for more than 25 years and is a certified Reiki Master in the Usui System of Natural Healing and in Karuna Reiki Holy Fire. When she had a shared near-death experience (SNDE) with the man who later became her husband, it changed her at a core level. Scarlett is now able to work across multiple dimensions in this world and in others. Most importantly, this SNDE enhanced her ability to harness divine love in transformative ways for healing, growth, and recovery.
David E. Schwartz is a financial services professional in one of the top brokerages/banks in the US.
Originally presented by: