Description
"Revealing HEAVEN: The Eyewitness Accounts That Changed How a Pastor Thinks About the Afterlife"
with Rev. John W Price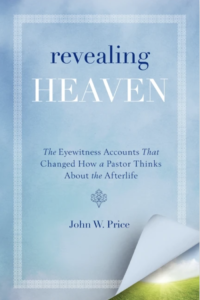 The Rev. John W. Price is an Assisting Priest at Palmer Memorial Episcopal Church in Houston TX He and his wife live in Houston where they are both involved in the community.  He retired in 2004, after 32 years in parish ministry in San Antonio, Austin (20 years) & Spring (8 years), and 7 years as Chaplain at St Luke's Episcopal Hospital, Houston.
He is a graduate of the University of Texas (B.A., '61, Plan II, Liberal Arts) and the Virginia Theological Seminary (M.Div., '64). He was ordained priest in '65 and commissioned Chaplain (1LT) shortly afterward in the Texas Army National Guard. He retired from the Guard as State Area Command Chaplain (Colonel) of the Texas Military Forces in '95. He graduated from the School for Spiritual Directors at the Pecos Benedictine Monastery in New Mexico in '86 and has been involved in teaching and leading spiritual direction ever since. He is one of the founding faculty of the diocesan school for spiritual directors, the Formation In Direction (FIND) program, teaching the psychology of spirituality and about the Near-Death Experiences. Member, International Assoc. for Near-Death Studies (IANDS) , '99- .
Price is author of Revealing Heaven: the Christian Case for Near Death Experiences, HarperCollins 2013. He has been panel member on pastoral ministry with NDErs for three local IANDS conferences and was Keynoter for the Central Texas IANDS Conference in 2016 and the initial meeting of the Houston Chapter of IANDS.